AQUA-PROOF
"Integral Water Proofing Admix"
DESCRIPTION :
AQUA-PROOF is a proprietary formulation specifically designed for integrally waterproofing concrete or cement based mixes. When mixed in to concrete or mortar, it disperses uniformly and the active chemicals react with the free lime in the hydrated concrete to produce a insoluble water-impermeable mass capable of withstanding Extreme hydrostatic pressure. AQUA-PROOF is chloride-free and non toxic.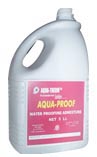 USES :
AQUA-PROOF is a integral waterproofing admixture for concrete and cement based mortars, typical applications include basements, swimming pools, water tanks, terrace slabs, foundations, tunnels, dams & all other structures that require prolonged protection.
APPLICATIONS:
MIXING RATIO :
For Concrete and Plaster:
Add AQUA-PROOF in to gauging water. For Plasters, Screeds, Mortars.
DOSAGE :
AQUA-PROOF (L) :
200 ml per 50 kgs bag of cement.
PACKAGING AND STORAGE :
AQUA-PROOF Liquid is packaged in 5 litre, 10 Litre.